About
Good wave on bigger days, that is also less crowded than the main point.

Atmosphere:
On its day its world class (Rip Curl have a photo of it in their 'Search' series), very long, and needs a bigger 4-6+ foot swell. Some of my best, uncrowded waves in Peru here.

Additional Info:
Like the main Chicama point, it needs a bit of swell to get going, but it will be a foot or two bigger than Chicama. And like Chicama, it definitely gets better the bigger it gets, getting world class once it hits a solid 4-8 feet, when the main point will be firing at 3-6+. Bigger than this (up to 10 feet a few times a year) the locals say it gets dangerous, as it doesn't break all that far from the rocks. It really needs to be at least 4 feet+ to be good, otherwise its too slow. But if you hit it at 4-6 feet, mid to high tide?, you won't forget it, you can get an incredibly long, fast ride up to 600m and with a clean hollow wall and always howling offshore wind all the way, with the odd barrel section.

It can be an excellent wave, but again, it does need a bigger swell to show its true form.

It peaks just next to a small black jutting outcrop, and walls up into a big clean face, then backs off a little, before running fast up to another 600m towards the main point, dying out towards the end. Most surfers don't paddle back as its way too long, but paddle across to the main point another few hundred metres.
Location
Loading...
Access
This wave is the next point up from the main point at Chicama, about another 800m further round the Cape from the main Chicama point takeoff area. Locals call it 'Keys', and it starts just next to an old wall which goes down to the sea-you will see a very long clean left if there is a big swell running.

A very long walk from town (about 30 minutes) or hire a taxi cab for about 10 bucks and walk down from the ricketty dirt track, from just near the old mining wall which you will see going down to the sea. You can also walk around from the main point takeoff area about another 10 minutes.
| | |
| --- | --- |
| Walk | Long walk (>30 min) |
| Public access | Yes |
| 4x4 required | Unknown |
| Boat required | Unknown |
Wave Characteristics
| | |
| --- | --- |
| Type | Point break |
| Direction | Left |
| Bottom | Sandy with rock |
| Power | Hollow, Fast, Powerful |
| Frequency | Sometimes breaks (50 days/year) |
| Normal length | Very Long (300 to 500m) |
| Good day length | Exceptional (>500m) |
Ideal Conditions
| | |
| --- | --- |
| Wind direction | SouthWest, South, SouthEast |
| Swell direction | West, SouthWest, South |
| Swell size | 3ft-5ft - 10ft+ |
| Tide | All tides |
| Tide movement | Don't know |
Crowd
| | |
| --- | --- |
| Week | Few surfers |
| Weekend | Few surfers |
Dangers
Rocks
Videos
None
Nearby spots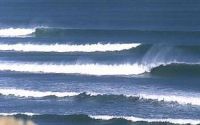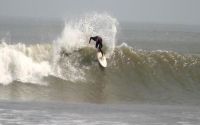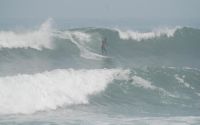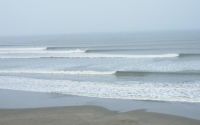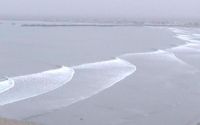 Chicama
0.09 miles away
| | |
| --- | --- |
| Direction: | Left |
| Bottom: | Sandy with rock |
| Frequency: | Very consistent (150+ days/year) |
Malpaso
0.57 miles away
| | |
| --- | --- |
| Direction: | Left |
| Bottom: | Sandy with rock |
| Frequency: | Very consistent (150+ days/year) |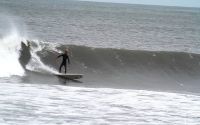 El Cape
0.62 miles away
| | |
| --- | --- |
| Direction: | Left |
| Bottom: | Sandy with rock |
| Frequency: | Regular (100 days/year) |