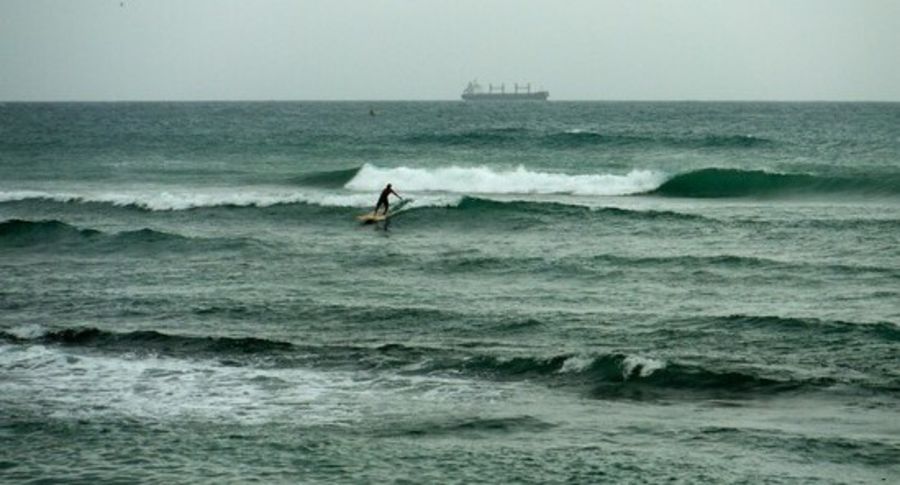 About
When its not huge or breaking too powerful, its a great very forgiving wave for a beginner to take their surfing ability to that next notch.

Atmosphere:
The spot has fallen out of favor with the younger crowd--typically the crowd will consist of surfers in their 30's and older that have been surfing this spot their whole life. So give them respect, leave your aggro attitude at home, wait your turn , smile alot, you will be rewarded with good times and good waves. Localism isnt a problem here but there has been a surfer or two that has been sent packing when they had the wrong attitude.

Additional Info:
The wave consists of a long steep mushy right wall (sometimes very long when conditions are perfect) with a 12 to 15 minute paddle back and a much shorter but sometimes hollow left with a 3 min. paddle back out. The break starts working well at 5 to 6 ft maxing out at 10 ft. Beware of sneeker sets, as the water depth drops off considerably only a hundred yards out, allowing large waves to come in unnoticed until too late and cleaning out the line up. Resulting in people ditching their boards in front of you as your duck diving (OUCH!). Also watch for the boil on the face of large waves coming, when you see this be prepared as this usually means a cleaner set is coming thru-- so paddle like hell!

The wave that breaks on the east side of the rock is called Little Fiji, a fun left only ledging hollow takeoff, starts breaking 3 foot and can be ridden up to 6-8ft faces before it stops working. The take off peak is in 4 feet of water and then it deepens out making the wave back off and get mushy. Reforms again on the inside. Unless you know how to get thru the reef or paddle out with someoone that knows dont go. If will hurt you, better to paddle to the west side (La Ocho) and have fun.
Location
Loading...
Access
Ask for the directions to Escambron Beach, which is near the Caribe Hilton. Once you get to the public parking lot, pay the $2 daily fee and avoid the hassle of getting a ticket. When you get to where the surfers enter the water you will see the public beach to your right behind a long line of rocks, out in front of you about a 1/3 of a mile out you will see a very large rock, to the left of this rock is the break.
| | |
| --- | --- |
| Walk | Instant access (<5 min) |
| Public access | Yes |
| 4x4 required | Unknown |
| Boat required | Unknown |
Wave Characteristics
| | |
| --- | --- |
| Type | Reef (coral) |
| Direction | Right and left |
| Bottom | Reef (coral, sharp rocks etc.) |
| Power | Ordinary, Fun, Powerless |
| Frequency | Very consistent (150+ days/year) |
| Normal length | Normal (50 to 150m) |
| Good day length | Very Long (300 to 500m) |
Ideal Conditions
| | |
| --- | --- |
| Wind direction | South, SouthEast, East |
| Swell direction | North, NorthWest, West, NorthEast |
| Swell size | 3ft-5ft - 10ft+ |
| Tide | All tides |
| Tide movement | Rising tide |
Crowd
| | |
| --- | --- |
| Week | Few surfers |
| Weekend | Ultra crowded |
Dangers
None
Videos
None
Nearby spots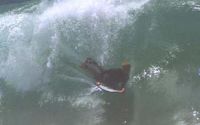 La Bomba
0.16 miles away
| | |
| --- | --- |
| Direction: | Right and left |
| Bottom: | Flat rocks with sand |
| Frequency: | Regular (100 days/year) |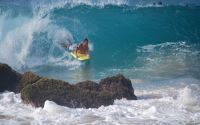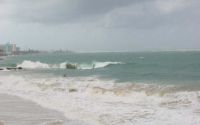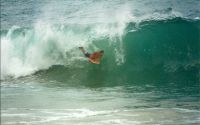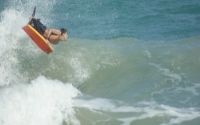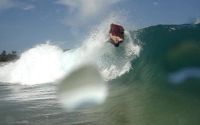 Sheraton
1.62 miles away
| | |
| --- | --- |
| Direction: | Right and left |
| Bottom: | Sandy |
| Frequency: | Very consistent (150+ days/year) |
Fiji
2.03 miles away
| | |
| --- | --- |
| Direction: | Left |
| Bottom: | Reef (coral, sharp rocks etc.) |
| Frequency: | Regular (100 days/year) |