About
Its perfect to see a new atmosphere, a new place hard to get, and surf its just a plus, 3 times better and bigger than the beach next door "ballenas", i could say it looks like Golondrinas en isabela. everyone that i took to this place knows how good the wave gets, ask around. This is Saul Borrero, ballenas,Sal del Diablo y punta de brea local

Atmosphere:
i been surfing this wave sience 1994, i love it, no crowd, pefect waves for you and youre friends, i wanna put this beach on the map

Additional Info:
Park the truck where you find a clean spot(no trees or pointed rocks)is hard to go down the mountain with a lot of baggage but ones you get down and youll see the clear white sand and the wave with no ones around youll fell its worth a sweet. Is easy to paddle in, but a lot of duckdives when is big, the wave breaks from far back but the wave ends up in the dry sand so preprare for it hehehe, to the left breaking next to the hill is the hallow wave coming toars you, to youre right is a goofys paridise, but in the middle of the beach there a wave you can grab a left and right, the same wave it splits up in 2. Watch out for big fishes!, i been surfing, diving and fishing for for a long time, so i know whats underneath the whater and what could find you.
Location
Loading...
Access
The wave comes from way back, its along wave breaking and ending at dry sand, backwash its common when its big, you can get a hollow wave to a rideble long wave... crazy for doing ticks. (The left breaks more hollow wile the right is perfect for do tricks out of the pocket).
| | |
| --- | --- |
| Walk | Long walk (>30 min) |
| Public access | Yes |
| 4x4 required | Yes |
| Boat required | No |
Wave Characteristics
| | |
| --- | --- |
| Type | Beach break |
| Direction | Right and left |
| Bottom | Sandy |
| Power | Powerful |
| Frequency | Regular (100 days/year) |
| Normal length | Short (<50m) |
| Good day length | Long (150 to 300m) |
Ideal Conditions
| | |
| --- | --- |
| Wind direction | NorthWest, East, NorthEast |
| Swell direction | South, SouthEast, East, NorthEast |
| Swell size | 3ft-5ft - 8ft+ |
| Tide | Mid and high tide |
| Tide movement | Rising and falling tides |
Crowd
Dangers
Localism
Videos
None
Nearby spots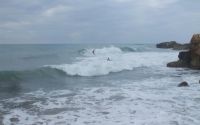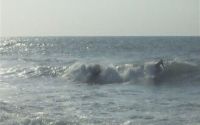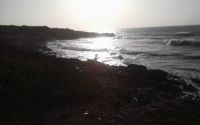 Sal del Diablo
4.63 miles away
| | |
| --- | --- |
| Direction: | Right and left |
| Bottom: | Flat rocks with sand |
| Frequency: | Very consistent (150+ days/year) |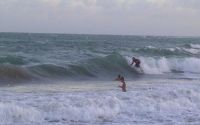 Ballenas
6.27 miles away
| | |
| --- | --- |
| Direction: | Right and left |
| Bottom: | Sandy with rock |
| Frequency: | Regular (100 days/year) |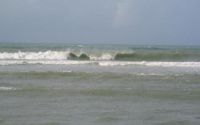 La Santa
6.37 miles away
| | |
| --- | --- |
| Direction: | Left |
| Bottom: | Reef (coral, sharp rocks etc.) |
| Frequency: | Sometimes breaks (50 days/year) |