About
This spot has a lot to offer when a typhoon comes through. it is just shelterd enough that if it is closed out at kugenuma or tsujido then you can get some decent rides in. It will never be better than the other spots to the south if they are looking good so keep driving if it looks good there it may be better down the beach past enoshima. Water is less than clean most of the year. nice in the winter though. you can trunk it until October but you need a long rash (jellyfish) not world class or anything but a decent spot worth checking out. save yourself the trip if the swell is anything less than 1.5m or you will be regretting the drive down there. watch the wind to anything blowing on shore (west) at over 2m/s will ruin it on most days

Atmosphere:
Like most of the spots here it is the most crowded when it is up to waist high. the crowd drops off in the water by at least 50% when it gets to be shoulder and when it it head or over most people just watch from the parking area and you are free to take your choice of waves.(this only happens when a typhoon is coming.)

Additional Info:
like most spots in the Shonan area it doesn't pick up until the swell is at least 1.5m you have to get out early Dawn patrol or the wind will pick up on most days and blow it out. there are several options for parking for those of you on the dawn patrol. the parkin lot opens at 6:00am Jun-Aug but doesnt open until after 8:00 in the "off" season. You can park at 7-11 for a couple of hours until they call the tow or you can park in the "private" lot next to 7-11 until well after 9:00 am just stay in the empty spots closer to the road. there is other spots for parking but if I tell you all my secret spots then I will be stuck.
Location
Loading...
Access
Shonan area. This spot is on the other (East) side of Enoshima island. If you are taking the train, change at Fujisawa onto the Enoden line from the Odakyu building opposite the station, and get off at Kamakura Koukou Mae station.
| | |
| --- | --- |
| Walk | Instant access (<5 min) |
| Public access | Unknown |
| 4x4 required | Unknown |
| Boat required | Unknown |
Wave Characteristics
| | |
| --- | --- |
| Type | Reef (rocky) |
| Direction | Right and left |
| Bottom | Reef (coral, sharp rocks etc.) with sand |
| Power | Fast, Powerful, Ordinary, Fun, Powerless |
| Frequency | Very consistent (150+ days/year) |
| Normal length | Short (<50m) |
| Good day length | Normal (50 to 150m) |
Ideal Conditions
| | |
| --- | --- |
| Wind direction | North, East, NorthEast |
| Swell direction | SouthWest, South |
| Swell size | 3ft-5ft - 8ft+ |
| Tide | Mid and high tide |
| Tide movement | Rising tide |
Crowd
| | |
| --- | --- |
| Week | Few surfers |
| Weekend | Ultra crowded |
Dangers
Rips / undertow, Rocks
Videos
None
Nearby spots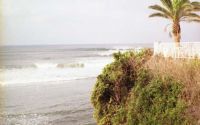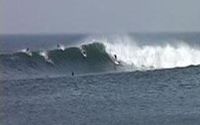 Osaki
0.81 miles away
| | |
| --- | --- |
| Direction: | Right and left |
| Bottom: | Reef (coral, sharp rocks etc.) |
| Frequency: | Sometimes breaks (50 days/year) |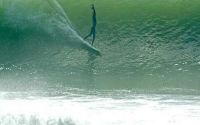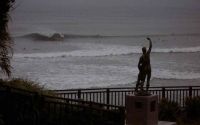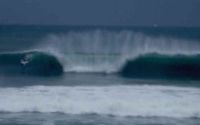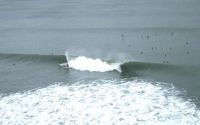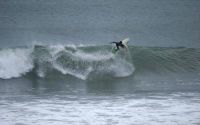 Inamuragasaki
2.52 miles away
| | |
| --- | --- |
| Direction: | Left |
| Bottom: | Reef (coral, sharp rocks etc.) with sand |
| Frequency: | Don't know |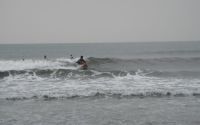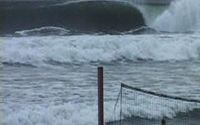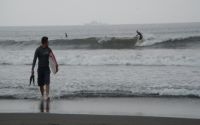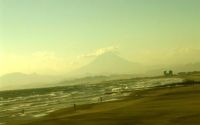 Kugenuma
2.73 miles away
| | |
| --- | --- |
| Direction: | Left |
| Bottom: | Sandy |
| Frequency: | Regular (100 days/year) |